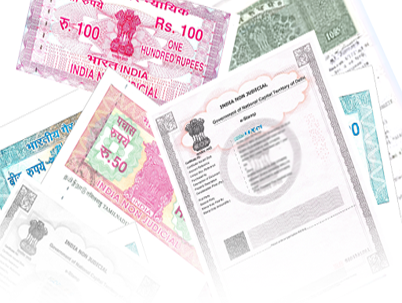 Purchase

Stamp Paper

IOUX arranges the stamp duty for you for any sort of document/agreement across the country as allowed by the Indian Stamp Act, 1899.

IOUX takes all these aspects into account for online execution of Stamp Paper, Click here to Start.
The benefits
of purchasing stamp paper with us
Simpler than physically obtaining stamp paper
Authenticity of stamp paper is equivalent to the physically procured stamp paper
Before ordering the system prompts you to check and reconfirm the details of the stamps before final order avoiding error Correction and editing of stamp paper before ordering is possible
Timely and instant availability
No risk of losing it since always digitally available
Place stamp duty orders across the country from the comfort of your home
How
does the process work?
IOUX is an Authorized Collection Centre (ACC) of Stock Holding Corporation of India Ltd for purchase of Stamp Paper. You can place an order here on IOUX for non-judicial stamp paper for any state in India. In addition, while eSign executing an agreement online at IOUX it auto calculates the proper and adequate stamp duty for your document in your state.
The entire process of online ordering and availing requisite non-judicial stamp paper can be completed swiftly and involves less effort than physical procurement of stamp paper. This reduces the lag in paperwork making the documentation workflow simple and convenient.
Why
is Stamp Paper Required?
Stamp duty is required to be paid for the legalisation of documents and agreements in India. eStamping is an online process through which Stamp Duty can be securely paid to the Government. Most agreements/contracts require payment of non-judicial Stamp duty and doing it the conventional way would be time consuming. Any legal agreement of this sort then requires a proper stamp duty depending on your state jurisdiction and type of document. This information is otherwise complicated and tough to acquire, where at IOUX you can obtain the same instantly.