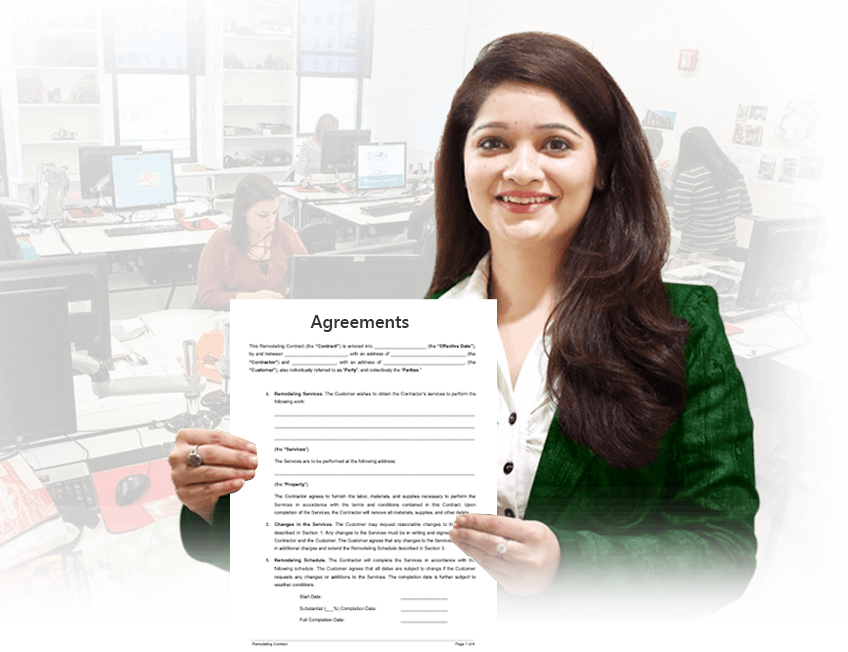 Categories of Documents at IOUX
Sign & Execute any Contract or Document (Letters/Invoices/ Affidavits/Agreements etc)
Business Use Agreements
Use our legally vetted Sample Agreements & Documents or Convert your own business agreement into a Smart Template.
IOUX offers a comprehensive collection of legally vetted documents, including Agreements, Affidavits, Letters, Board Resolutions, and Statutory Documents, that are readily available for download. Our documents are editable and customizable, allowing users to insert their own terms and conditions into the downloaded samples.
By offloading the tedious task of document preparation to IOUX, our users can save significant time and costs that would otherwise be spent on engaging legal advisors or consultants. Whether for business or personal needs, IOUX provides a hassle-free solution for all your document needs.
---
Personal Use Agreements
An individual in his/her day-to-day dealing in their life requires the execution of various documents either with their family members or workers or with government departments to safeguard their legal rights and remedies. One may also require purposeful and legally vetted document drafts & samples for complying with the prerequisites of various Government departments such as executing affidavits/ declarations/ indemnity bonds, etc. However, individuals are often too busy or lack adequate knowledge to understand the requirements of such legal documents and how the said documents are to be made and executed. Having set formats or templates can assist any person in not only learning what the basic format of such legal documents is but also giving the individual a better understanding of the requirement behind such legal document and ensuring the same is completed and executed to satisfaction.
Documents samples available at IOUX are prepared by professionals who have taken care of all these requirements and concerns required to make these personal use agreements legally valid, and enforceable and to make the legal documents such as affidavits, indemnity bonds, declarations, to enable the individual to have a ready go-to template which they can modify as per their own needs and requirements.
These Document samples can be downloaded from IOUX by searching for any keyword. One can even customize or modify these documents/ agreements for their own special needs to suit one's requirements. These document templates can also be used online for Creating and Executing requisite Agreements/ Documents. The below link shall take you to the set of documents as may be required by you for your day-to-day requirements to save a great amount of time, and hassle to carry out your work & transactions in a safe and legally valid manner.
---
Invoice Payment Commitment
What is Invoice Payment Commitment?
The IOUX Invoice Payment Commitment is a special instrument which supports any Invoice where Credit is extended by the Seller to the Buyer with strong evidence of Payment Obligation from the Buyer to the Seller by way of accepted Invoice along with Bill of Exchange.
How does Invoice Payment Commitment work?
Easy and cost-effectively eSigned Invoice along with Bill of Exchange accepted online by the Buyer obliges the Buyer to pay the due amount, for the goods or services that have been received, within a particular period or on a particular date. It also empowers the Seller to avail financing based on the acknowledged Invoices and accepted Bill of Exchange.

The Benefits of
Invoice Payment Commitment

for both parties:
1

Legally establishes the liability and fixes the date on which Payment is to be made by the Buyer to the Seller, mitigating payment risk.

2

An efficient Mode of Credit / Funding from banks and other financial institutions.

3

Bill of Exchange are an established negotiable instrument and transferable by endorsement.

4

Automated gentle reminders sent by IOUX to buyer further enhance certainty on the due date of payment.
So, we can definitely say that both parties can start to benefit when they execute an Invoice Payment Commitment since it mutually accommodates both the Buyer and the Seller.
Why do we need an Invoice Payment Commitment?
We all can agree that it's almost impossible for unsecured operational creditors to legally challenge their debtors without proper legal documentation. Online signing and execution of IOUX Invoice Payment Commitment containing legal documents consisting of accepted Invoice and Bill of Exchange offer great speed, ease and cost effectiveness to accomplish this objective.

The IOUX Invoice Payment Commitment is required in order to ensure a certain amount of payment as soon as possible or within a fixed time frame from the Buyer to the Seller.

Chances of payment defaults from buyers are largely mitigated with these documentary confirmation of payment obligations.

Further, these instruments can also be used to finance trade and achieve credit.
---
Cheque Payment Assurance
What is Cheque Payment Assurance Undertaking?
The IOUX Cheque Payment Assurance Undertaking is a special instrument which supports any Cheque with strong evidence of its Payment Obligation from Drawer to the Payee.
How does Cheque Payment Assurance work?
Easy and cost-effectively eSigned undertaking creates a factual evidence value of the payment being made by cheque and the genuineness of those transactions.

The Benefits of Cheque Payment Assurance for both parties:
1

Maintaining discipline in timely payment of cheques issued.

2

Bring a reasonable certainty in the due dates of payment, with automated gentle reminders sent to Drawer / Cheque Issuer.

3

Provide complete details of cheque payment as an additional documentary evidence to resolve the dispute / legal case.

4

With Payment Assurance Undertaking the payment risk is substantially mitigated.
So, we can definitely say that both parties can start to benefit when they execute a Cheque Payment Assurance Undertaking .
Why do we need a
Cheque Payment Assurance?
A traditionally popular method for making payments for goods and services or for repayment of loans and debts is through issuance of cheques. However, a large number of cheques get dishonoured and retuned unpaid on their due dates which can major problems for beneficiaries / payees.

It means just because you have received a cheque does not guarantee its payment, and in fact bouncing of such cheques can even cost you additional money.

The drawers / issuers of cheques can also stop their payment or close their accounts before the due date, leading to defaults in payment of such cheques.
Legal Actions can be Costly and Cumbersome
While you as a Payee can file a law suit for dishonour of cheque, but it can take a long time to even prove your transactions and the genuineness of dues covered by the cheque in question. This can entail lengthy legal proceedings costing huge sums of money. That's where IOUX can help you.

---
Create your Affidavit Online at IOUX
Now at IOUX you can create your Own Affidavit online by using our legally vetted pre-drafted Templates as per your requirement within few minutes. You can use our Affidavit as it is, or you can also edit the same as per your need. We will be providing you the soft copy of the Affidavit along with the e-Stamp Paper of requisite amount.
Choose Your Affidavit!
Affidavit for Residence of Proof
Affidavit confirming Birth Date
Affidavit by Purchaser
Affidavit BCD Enrolment
Affidavit by Builder

Affidavit by Owner
Affidavit for Transfer of car
Affidavit for Indemnity Bond Rental
Affidavit for Undertaking by Purchaser
Affidavit for Title deeds Destroyed by Fire
Frequently asked Question In regard of Affidavit
What is Affidavit
An affidavit is a written statement that is used in court proceedings or submitted to an institution/Authority, which can also be defined as a statement of facts accompanied by an oath. An affidavit is considered as "evidence" as per Section 3 of the Evidence Act. Affidavits are considered as legal evidence for the courts and judicial purpose, it can act as an oath or an affirmation made by the person.
Purpose of Affidavit
The purpose of an affidavit is to states facts in a solemn and legal language. By signing and confirming the Affidavit by Deponent (person furnishing the Affidavit) makes enforceable commitment or an oath to what is said in the Affidavit.
Affidavits are considered as an important legal document for confirmation/ information which clearly declare one's legal standing and hence avoids future confusion or disputes.
Affidavits are considered as a one of the major document in the decision making of the Court and Statutory Authority.
An Affidavit is necessary to be submitted to Authorities for important actions such Name change, Address Proof, Proof of Income, Change of Signature etc.
What are the requirements to make an affidavit
An Affidavit should be in writing.
Affidavit should a declaration made by an individual.
All the facts stated there must be true and relatable.
Affidavit is always made in first person.
Taking Oath or furnishing a false affidavit can make a person liable under the Indian Penal Code.
Who can make Affidavit?
Any person above the age of 18 years can make the affidavit is Deponent. He affirms that facts stated in the affidavit are within his knowledge and are true.
Process of Creation at IOUX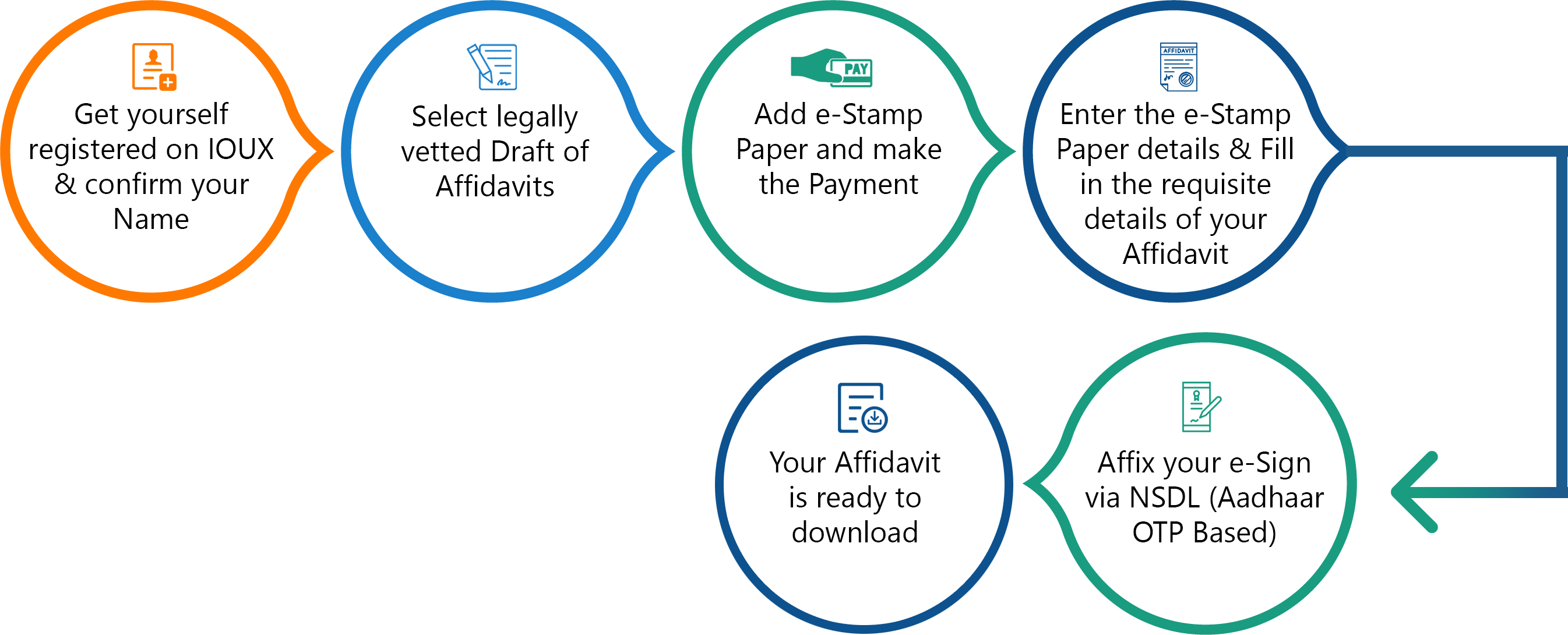 ---
Letters
An individual, time and again has to engage with officials whether of government departments or officials of companies, banks etc. and normally they do not know how to frame a letter so that it looks like it has been drafted properly and professionally. Below link will take you to a wide variety of drafts which you can use as a template and shall enable you to thereafter mould the letter in your words and at the same time make it look like a professionally drafted letter.
---
Companies & Partnership Documents
A business organization engaged in professional, commercial or industrial activities operates in different forms of ownership which makes them distinct from a business entity. Businesses may operate as Sole a Proprietorship, Partnership firm, Limited Liability Partnership (LLP), Companies, etc.

A company is incorporated as per the provisions of the Companies Act of 2013. The company can be incorporated as a Public Limited Company, Private Limited Company, Company Limited by Shares, One Person Company, etc. Click here for Requirements for New Company Formation and to download samples of Board Resolution.
Benefits of Formation of a Company:
Company has a separate legal existence.
Liability of the company is limited.
Company has a Perpetual Succession
Company can sue and can be sued
Transferability of Shares
A partnership deed which is also known as a Partnership Agreement is an agreement between the partners of a firm that defines the terms and conditions of a partnership between the partners. It specifies the various terms such as Capital investment profit/loss sharing, salary, interest on capital, drawings, admission of a new partner, dissolution of partnership etc. to bring clarity to the partners.
Benefits of Partnership Deed
Having a Partnership Deed provides a legal structure and responsibility amongst the partners of the firm. And the registration of a partnership agreement is not always mandatory.
Following are some of the benefits of the partnership deed:
It states the rights, duties, and liabilities of all the partners.
It helps to avoid any misunderstanding between the partners because all the terms and conditions of the partnership have been laid down beforehand in the deed.
If any dispute arises among the partners, it may be settled easily by referring to the terms of the Partnership Deed in terms of the Partnership Act.
It helps to determine the exact profit and loss ratio amongst the Partners.
It helps to determine the roles & responsibilities of the individual Partners.
Partnership deed can also be referred to get clarity of certain clauses such as salary of the partners, interest on capital, drawing, admission of new partner etc.
Hence, it is always advised to have a written Partnership Deed instead of oral agreement.
Smart Digital Solutions
Digitally Sign & Execute any Contract or Document (Letters/Invoices/Affidavits/Agreements etc.)