Terms of such an Agreement should provide legal rights & obligations to the landlord and tenant, including:
Description of property
Security Deposit & Period of tenancy
Security Deposit & Period of tenancy
Do's & Don'ts by parties & circumstances of violation
Fixtures & fittings
Notice period for vocation
Periodical rent amount & its due date
Renewal of Agreement and other terms
IOUX takes all these aspects into account for online execution of your Lease or Rent Agreement, Click here to Start.
Why Ordinary Rent Agreements are Legally Invalid and tends to fail?
Lease or Rent Agreement of a property for less than 12 months should be executed on a Stamp Paper of requisite value & notarized, and agreements for periods equal or greater than a year should also be registered at the local sub-registrar office. But majority of ordinarily signed rent agreements are found to be legally invalid and unenforceable due to the following reasons:
Fixation of inadequate or improper stamp duty.
Lack of identification and ownership rights of parties involved.
Absence of clarity of rights & obligations of both parties.
Discrepancies in signing of the agreement by both parties.
Inadequate provisions to safeguard the interests of landlords for re-possession of the rented property.
Inadequate provisions for undisturbed enjoyment of rented property by the tenant.
Inadequate provisions about regular maintenance of the property.
Legal Actions can be Costly and Cumbersome
While you as a Payee can file a law suit for dishonour of cheque, but it can take a long time to even prove your transactions and the genuineness of dues covered by the cheque in question. This can entail lengthy legal proceedings costing huge sums of money. That's where IOUX can help you.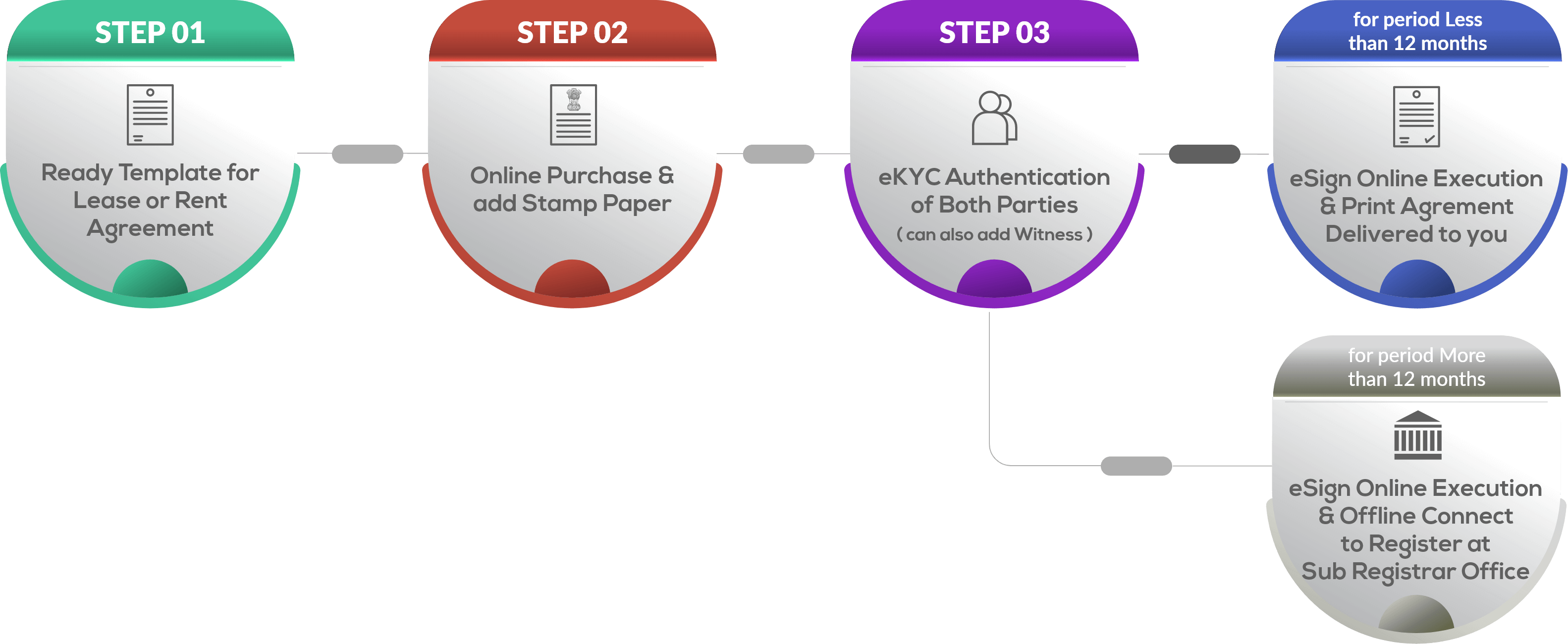 IOUX user can start the process of creation of an Agreement where multiple parties are slated to be part by :
Either picking up a draft template and then Inviting all concerned parties or by first Inviting Parties and adding them to your approved contact list of Counterparties
Completing the filling up of the Document/Agreement and sharing them with all concerned parties over the IOUX platform to seek their Approval before sequentially proceeding for eSign along with procurement of Stamp Paper through IOUX platform only.
The Benefits of IOUX Lease or Rent Agreement
1

IOUX rent agreement ensures that the obligation and rights of each party to the agreement are mutually arrived at, prior to handing over of possession of the property.

2

IOUX rent agreement lays down the liability of each party in case of breach.

3

IOUX agreements are legally enforceable document which mitigate the risk of any default in payment of rent and ensure adherence to warranties.